We did this trip last several years ago and it was an incredible experience. We've been getting more and more requests to repeat it, so here it is.

It's a great Galapagos package that you won't find anywhere else. It's a land-based package with accommodations right on 3 of the islands as well as 3-nights in Quito and 2-nights in Guayaquil, Equador!

First, we'll have 3 nights in Quito where we can enjoy an amazing variety of adventure and nature tours. On our last trip we enjoyed mountain biking, horseback riding, hiking, river rafting and touring. It's a beautiful city with jungle activities surrounding it. click here for more info on the optional tours in Quito. Then, we fly on to the Galapagos for our 6-day package with our 3-island tour.

We start off all together at Baltra Island but since 16 is the maximum number of people this tour will accommodate due to the limited accommodations we will then split into 2 groups. One group will visit first Floreana island for 2 nights while the other group will visit Isabella Island for 2 nights. The groups will then switch and will end up all together again for night 5 of our Galapagos adventure in Santa Cruz.

You'll be able to snorkel with sea lions and penguins, see giant land turtles, exotic birds that are not afraid of humans, iguanas that swim, baby seals that come right up to you and more unique experience that you will only experience in the Galapagos. For a complete day by day itinerary with info on what you'll see go to http://www.destinationecuador.com/galapagos-island-adventure-trip.html Our trip with this company is 5-nights and also a fraction of the price that you see. The lodge at Floreana (photo at left) is especially cool with direct oceanfront accommodations. You'll be watching sea lions play and even look at you while you sit on your deck!

We travel between the islands by high speed boat. Each journey is about 2 hours. In January the seas are relatively calm. There will also be an option to fly.

After our Galapagos portion of the trip we will then fly to Guayquil for 2 more days of adventure and beauty. This will be a first for us and it certainly seems worthwhile. There they have the Natural Reserve Manglares Churute, one of the finest and most diverse protected areas of the tropical lowlands of Ecuador, definitely a must for nature lovers. We will set up a tour to enjoy and explore this beautiful reserve. We will also set up a half-day city tour (included in your package).

This is really going to be an incredible singles vacation-- I can guarantee that, much more interesting than a cruise, and less money too! Total cost of this package with all air and tours is just $3,995. That's a terrific rate on this trip plus you will love spending each evening on the islands listening to all the sounds and being able to roam around. Cost also includes all food and tours while in Galapagos and daily breakfast in Quito and Guayaquil. Sign up early as we are limited to just 32 people

Click here to read a day by day interary of our 6 days in the Galapagos

$200 deposit to sign up.
INCLUDES:
Round trip international air from LAX (other gateways are always an option but may cost slightly more)

10-nights accommodations (double occ.)

All ground transportation

Daily Breakfast in Quito and Guayaquil- all meals in Galapagos

All tours in Galapagos

SINGLE SUPPLEMENT - $1,000
DOES NOT INCLUDE:
Departure taxes or any fuel surcharge (running $205 at the

time of this posting)

Galapagos entry fee of $100

Optional tours in Quito and Guayaquil
OUR AIR: Deduct $840 with your own air and you will not pay $110 in departure taxes. We will still fly you to/ from Quito to Baltra and back to Guayaquil as part of this package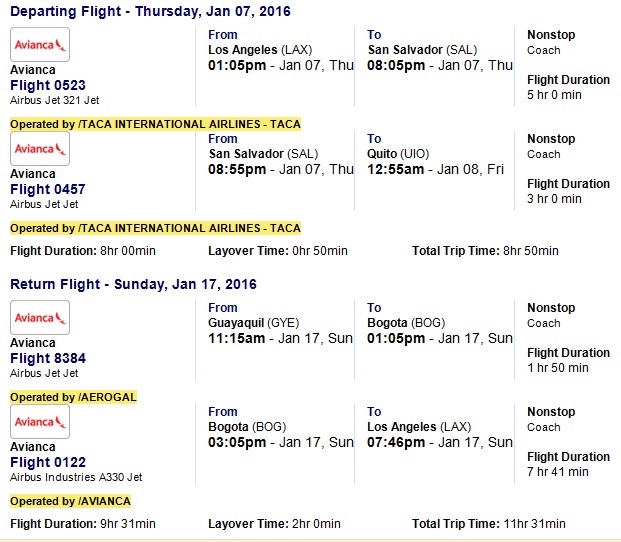 OUR HOTELS:
QUITO
Hilton Colon Quito 4-star Website
Review
Welcome to the award-winning Hilton Colon Quito Hotel. Set in La Mariscal district, on Quito's bustling commercial and touristic Avenida Amazonas, the hotel is at the heart of the city's action. Hilton Colon Quito is a 10-minute walk to Quito's Spanish Colonial old town, a UNESCO World Heritage Site.
Relax in a modern guest room with WiFi, a work desk, and panoramic views of the city and mountains. Upgrade to the spacious and luxurious Suites of La Pinta Executive Tower, an upscale experience available only at the Hilton Colon Quito.
Hilton Colon Quito is just a 10-minute walk from Quito's Spanish Colonial old town. Experience Quito's meandering streets and historic colonial buildings with rich culture, tradition and charm. Check out the unique La Mariscal Craft Market located beside the hotel. Visit a seemingly unending parade of churches, cathedrals and basilicas. Travel to the peak of El Panecillo to see the 45-meter statue of the Madonna - who locals claim is the only one in the world to have wings – and take in the views over Quito to the Andes Volcano Avenue.
FLOREANA
LAVA LODGE
Website
Tripadvisor Review Great reviews!
"A dream retreat on an unspoiled island" Anyone who is lucky enough to set foot on Floreana, and even luckier to stay over night at this simple but little piece of perfection should count their blessings. It's unspoiled and the wildlife both on land and below the water was amazing even by Galapagos standards.
The wildlife above and below the waves includes manta rays, sea lions, sharks, sea turtles and the Galapagos Giant Tortoises, with the bonus of the underwater world while snorkeling. Lava Lodge is only a few steps from the "loberia" where visitors can watch the island's famous sea lions in natural surroundings.
A 5 minute walk brings you to the beach for a fantastic snorkeling experience with sea lions and sea turtles, once finished go back to the cabin for a quick shower, have a great meal and then watch a beautiful sunset which is followed by the clearest sky full of stars.
ISABELLA
ALBERMARLE HOTEL
Website
Tripadvisor Review Great reviews!
"Albemarle Hotel offers guests an unforgettable holiday on Isabela Island located directly on the pristine white-sand beach!"
SANTA CRUZ
ANGERMEYER WATERFRONT INN
Website
Tripadvisor Review #1 hotel in Puerto Ayora. Great reviews!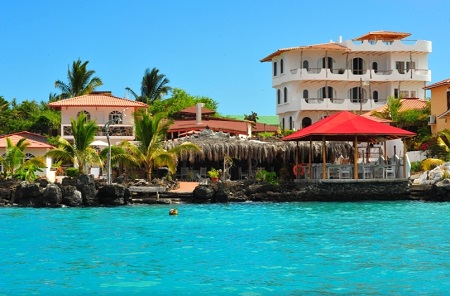 We welcome you to the ANGERMEYER WATERFRONT INN – a first class hotel built around Gus Angermeyer's legendary "cave".
When visiting the Galapagos islands, you will want to experience the special "Galapagos spirit" – and there is no better place to do that than here in our exclusive waterfront location.
Using materials such as lava rocks and drift wood, we have created a unique atmosphere and the feeling of being close to nature.We are situated right on the waterfront in the area known as "Punta Estrada", where we offer beautiful and relaxed surroundings for your dream holiday – on a piece of Galapagos history. Placed across the bay from Puerto Ayora, the hotel's location ensures total privacy and undisturbed quiet. If you want to go to town, water taxis will take you to and from our private pier, 24 hours a day.
Enjoy the sun on the terrace, a drink in our cozy café, have lunch or dinner on the waterfront deck, experience a beautiful Galapagos sunset and feel the enchantment of these unique islands together with family and friends. Our main aim is to make your stay one that you will always remember.
GUAYAQUIL
HOTEL PALACE
Website
Tripadvisor Review #1 hotel in Puerto Ayora. Great reviews!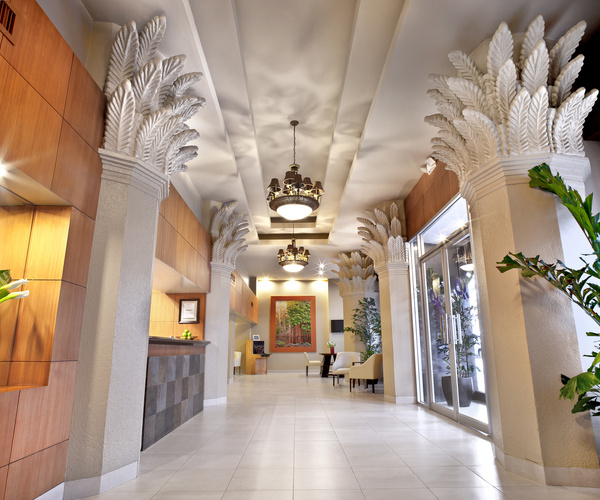 Check into Hotel Palace Guayaquil to find the elegance and sophistication of a world-class hotel blended with the comfort and warmth of home. At this luxurious destination perfectly situated in the bustling Guayaquil Ecuador city center, our gracious staff awaits to cater to your every need.
The gracious staff at Hotel Palace Guayaquil is committed to making your stay in Ecuador as comfortable as possible. With a range of relaxing hotel amenities to entice holiday travelers, yet modern enough to exceed the most advanced meeting requirements, Hotel Palace is Guayaquil's premier destination for business or holidays. Relax in contemporary yet casual suites, which have been newly redesigned and appointed with every imaginable comfort. Enjoy a workout in the fitness center or meet friends or colleagues for cocktails and dinner in the Palace Restaurant.
Acommodation in Single or King Room Complimentary Breakfast Buffet or breakfast ¨On the Go¨, Internet access in rooms and public areas of the hotel, Unlimited local calls, Daily Bottled Water, Local newspaper available, Power station, permanent fruit and coffee at reception, Welcome Cocktail, Ironing board and iron available, Electronic Safe Service, 95% Soundproof Windows
Click here to see photos of our last singles trip to Galapagos