Croatia Land and Sea Singles Vacation
July 20th - 31st, 2021
Just $2,550* with 3-nights hotel, 7-night cruise, ground transportation and more!




*Land only. Air is posted below

Here's a trip we've now had several times that's been a big hit so we've been asked to repeat it. You will love the ship and the itinerary. We will be cruising the Dalmation Islands with a new island every day. One thing I really love about the style of this cruise is that the islands are not far away, all the cruising is done in the morning finished typically by early afternoon. Then the ship stays docked and we are free to explore the different islands. Dinner is not included, which I also like, since half the fun of exploring these islands is finding an interesting restaurant and integrating with the locals. You can make your way back to the ship at any time.

Tuesday, July 20th- LAX to ZAGREB arriving in Zagreb at 7:20 pm on Wednesday the 21st
Zagreb has grown out of the two medieval settlements, Kaptol and Gradec, which for centuries developed on neigh boring hills. The 20th century brought the Secession style to its public buildings, parks and fountains emanating the lofty spirit of the Austro-Hungarian Empire.

It can offer to its visitors the Baroque atmosphere of the Upper Town, picturesque open-air markets, diverse shopping facilities, and abundant selection of crafts. Zagreb is a city of green parks and walks.

Overnight at Hotel in Zagreb.

Thursday, July 22nd- PLITVICE NATIONAL PARK
Breakfast at the Hotel and drive to Plitvice National Park (2,5hrs)
This park is INCREDIBLE!! This park is a renowned Croatian landmark. There you will be able to witness the immense beauty of lakes which constitute a National Park.

Plitvice Lakes are Croatia's first contribution to the UNESCO's List of World Natural Heritage enlisted in 1979 and one of the Europe's most beautiful nature parks situated in the mountainous region of Lika. A total of 16 lakes lying at different altitudes are separated by travertine barriers and linked by foamy waterfalls and cascades. As the geological processes continue, the wonderfully blue lakes and waterfalls are continuously changing. Plus, we will get this with a fraction of the typical visitors!

Overnight in Biograd

Friday, July 23rd- BIOGRAD

Today we will enjoy a relaxing morning in Biograd. It was first mentioned as a Croatia town in the 10th century. Once the town of coronation of Croatian kings, today is a strong and modern tourist center and the seat of the eponymous Riviera. This area, like only a few parts of the Mediterranean, offers excellent marine tourism and sailing possibilities because of its location on the best-indented part of the Croatian Adriatic.The core of this ancient town is located on a small peninsula. Visit the church of St. Roko (votive church from the 16th century, erected in the honor of St. Roko, patron saint of plague victims), St. Stosia church (built on the remains of the 18th century cathedral), Franciscan convent of St. Dujam (founded in the 14th century, contains valuable baroque saintly images, as well as a rich library), St. Ante church (dates back to the 13th century, built in an early romantic style), remains of the Benedictine convent of St. I

van (1069), remains of the Benedictine convent of St. Toma (1102), parish church of St. Antonija (1850), remains of an ancient aqueduct and countless

other sites. Numerous beaches stretch along the entire city, offering an ideal escape if you are looking to get away from the crowd. It is famous for beautiful beaches with crystal clear water. If you are a gastronomy enthusiast and want to savor the specialties and delicacies of this region.

In the afternoon we will arrange a tour of the nearby town of Zadar including the Roman Forum from the 1st century, St. Donatus Church from the 9th century, magnificent monument of Romanesque architecture, trademark of the city, and Cathedral of St. Anastasia. Despite its turbulent past, Zadar succeeded to preserve its heritage, between the 11th and the 14th centuries, the golden age of art and culture that flourished behind the protective walls of the city.

Saturday, July 24th - BIOGRAD

- SPLIT

On our way to Split we will make a stop in Trogir, a wonderful city with 2300 years of tradition. It is a town-museum in the very meaning of the world. Its rich culture developed under the influence of Greeks, Romans and Venetians. Trogir is also listed among UNESCO's World Cultural Heritage Sites and here you will visit St. Lawrence Cathedral.
After checking in to our rooms on the ship we will take an afternoon walk of Split, visiting Diocletian's Palace basements (on the UNESCO's World Heritage List) with the Peristyle, Jupiter's Temple and Cathedral.

Split is not only an urban, cultural and traffic center of Dalmatia with road and sea connections to Dalmatia's numerous summer resorts, but a city with 1700-year old tradition, a variety of archeological, historical and cultural monuments and the warmth of a modern Mediterranean town.

Some free time to discover the beauty of ancient Split.
7 NIGHTS - SPLIT-DUBROVIK DALMATIAN ISLAND CRUISE
We will have the fabulous MS Rhapsody the next 7-nights. This is an exclusive charter! All 20 cabins to ourselves! You will absolutely love this! This is our 3rd Croatia cruise and it's an amazing trip. Each day we have a different stop along the Damatian Island chain. Dinners are not generally included to give us time at each stop to wander and enjoy the towns. The passages are only a few hours each morning and are very enjoyable. Then we meet our guide for a short walking tour and then set you lose to explore.

This ship is brand new and it's luxurious atmosphere perpetuates its tradition as an exclusive yacht, with its stately and compelling lines, superior construction and comprehensive facilities for the guests.

Ships in general are motor yachts in size 39- 42 meters long and 8-8,30 meters wide, fully air-conditioned, spacious en-suite cabins with double or twin beds and elegance design (18 cabins for clients).The Intention of this cruise is to show beauty of our islands and thousand year old cities and their rich history, to present our lifestyle and heritage that we want to offer to our children as a gift.

The Itinerary is carefully prepared in order to give you right enough time to experience current history, sufficient time to undertake your own explorations of medieval towns located on South Dalmatian islands, as well as those on the mainland and to have enough time to relax and go swimming.

During 7 night cruise you will be able to gain an exciting experience of Croatian way of life, its past blended with present.

The MS Rhapsody is extra spacious with air-conditioned cabins, a pool on the stern and a jacuzzi on the deck, a comfortable salon, lounge bar, an outdoor covered sitting area as well as a sunny deck together with carefully chosen and experienced six members crew and our cruise manager will make your cruise unforgettable.
Click here for more information on the Rhapsody

CRUISE ITINERARY:

Saturday, July 24th

- SPLIT

Ship will be docked in Split harbour where you can board during the entire day.  Welcome meeting will start at 16:00 p.m. where you will be introduced by our Cruise director to the Captain, our crew and of course your future fellow passengers with whom you will spend a week on board.

Split is the second largest urban centre in Croatia and the seat of the Split and Dalmatia County. It is traditionally considered to be over 1,700 years old. Since 1979 the historic centre of Split has been inscribed on the UNESCO World Heritage Site List. The historical and cultural buildings are located inside the walls of the Diocletian's Palace. In addition, its numerous museums, the National Theatre, old churches and other archaeological sites in the region of Split make this city an important cultural attraction.

At 16:00 our English speaking guide will do 35-40 minute Split City tour, and walk us through historical Diocletian's Palace. You will have free time to explore city on your own.

Welcome dinner will be served at 7:30 p.m.

Overnight in Split, (B,D)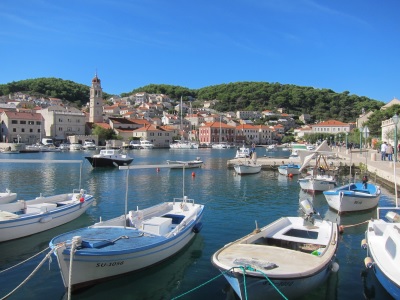 Sunday, July 25th- SPLIT – OMIŠ – PUCIŠCA (BRACČ ISLAND)
After breakfast we cruise across the mainland to Omiš, ancient town with city walls, fortresses and stone churches located at the delta of Cetina River with its wonderful beaches.

In the past Omiš was for centuries a symbol of retaliation, courage and strength of the famous pirates against Venetian Republic. After a relaxed walk in Omiš we will have lunch. During afternoon hours we sail towards Pucišca .

Pucišca the settlement originated on stone at stone and from stone. Nowhere in the system of towns and villages in Dalmatia does terrain play such a compelling role as in Pučišća with its spectacular irregularity of the steep-sided natural harbour, its authentic Mediterranean architecture and rustic ambience; the fjord like inlet meets three narrow valleys that descend from the hills to join those quiet and beautiful waters. Pučišća Quarry was exploited in the Antiquity; the reopening of the quarry took place in 1455, unused since Roman times.

This town was also just listed on a travel website as one of the top 27 most beautiful small towns in Europe!

It was from this quarry that stone was excavated to build limestone columns of the White House in Washington DC, The Parliament house in Vienna and many other famous buildings all over the world.The only Stonemasonry school in Croatia is located in Pučišća where students carve sculptures from Brač limestone with traditional and unconventional tools that have been used here for centuries.

We will spend night in this very quiet small town. Nightfall unifies the diverse features of Pučišća that have intrigued us by daylight.
Overnight in Pučišća at Brač Island, (B,L)

Monday, July 26th -   PUCIŠCA  - BOL (BRAČ ISLAND) - STARIGRAD
After breakfast we will use our morning to relax or walk along beautiful Pucišca and its known culture of stone masonry. The harmony and homogeneousness of the plebeian houses, the Renaissance palaces and Baroque buildings made from the white stone of Brač leave every visitor breathless.

Around 11:00 we will sail towards Bol, the island with the unique beach in Croatia named Zlatni Rat. (Golden cape). Lunch will be served on board.

We will stop in Bol and enjoy this nice Dalmatian town for a walk, visiting its monuments like Dominican monastery from 15th century, church of St. Marija from 15th to 17th century, Renaissance and baroque monastery with collection of prehistoric boats.

Of course we can walk to the beach Zlatni Rat through nice pine wood.

In the afternoon we will continue cruising towards the sunniest island of Croatia – the island of Hvar.

We will spend our night on board at Starigrad Town, the oldest settlement from Greek times on Island of Hvar, Protected by UNESCO.

Overnight in Starigrad Town, (B,L)
Tuesday, July 27th- STARIGRAD – ISLAND TOUR - HVAR

Morning departure by bus and local guide towards Vrbovska and Jelsa, two charming little towns on the northern part of the island, founded in the 14-16th century. In Vrbovska we will visit the church of St. Lawrence with one of the finest collections of Renaissance art on the island and Fishermen Museum.

Continuing through Hvar's lavender fields we will arrive to village Vrisnik to have wine tasting of local red and white wines and lunch that will include ham and cheese with meat and potatoes baked on traditional way under the iron bell. Return to boat in Starigrad and departure to Hvar town.

Hvar is one of the most popular, very attractive tourist destinations and a meeting point for the international jet set. Have an evening in Hvar free on your own to explore and dine around in one of numerous family owned restaurants.

Overnight in Hvar Historical Town, (B,L)
Wednesday, July 28th - HVAR – KORCULA, KORCULA  ISLAND
After breakfast, a local English speaking guide will walk you throughout the town of Hvar introducing you to the history, culture and way of life on this island.  We will join a short lavender presentation where you can learn how lavender was traditionally farmed on the Island of Hvar for centuries.

Lunch will be served on board followed by departure towards the island of Korcula. The city of Korcula is a historic fortified town on the protected north-east cost of the island Korcula. The old medieval part of the city was built on a small oval peninsula, a Baroque suburb spreads under the old city walls, and newer town quarters stretch along the shore to the east and west of the old center. Korčula is a city known as a birthplace of Marko Polo, the famous explorer.

Our English speaking guide will do short Korčula City tour, and walk us through narrow and cobbled streets.

The rest of the evening is free to enjoy dining at one of the local restaurants of your choice.

Overnight in Korčula Historical Town, (B,L)
Thursday, July 29th - KORCULA – MLJET

After breakfast we will use our morning to relax or walk in Korčula and around 11:00 we will cruise to the Mljet National Park, passing by magnificent shores. Lunch "en route" on board.

The island of Mljet, the most beautiful and most forested island in the Adriatic. Untouched nature, beautiful scenery, crystal clear sea, lakes, islands, rich cultural heritage make the island truly paradise on earth. Lunch will be served on board while cruising to Mljet National Park.

Upon arrival to the Mljet National Park, you will have free afternoon to explore park (entrance fees are not included), to walk around the Great and Small Lake and Islet of St. Mary with its Benedictine Monastery from the 12th century. Evening at leisure.

Overnight in Mljet National Park, (B,L)
Friday, July 30th- MLJET - DUBROVNIK

After breakfast we depart for a pleasant cruise along the shores of Mljet and the Elaphite islands. Lunch will be served while cruising to Dubrovnik.

Our own English speaking guide and coach will come to the pier. After an organized panoramic drive and photo stop of breath taking scenery at a hill above Dubrovnik we will arrive to the historical centre of Dubrovnik, the famous city enlisted as UNESCO's World Heritage site, where your guide will show you the most interesting sights of Dubrovnik.  After the city tour free time to explore the city, to visit the City Walls or take the cable car to the top of the Mount Srđ.

Return coach transfer is scheduled to be in a evening or you can return on your own. You will see why this city is called the Pearl of the Adriatic.

Overnight in Dubrovnik, (B,L)

on the ship
Saturday, July 31st - DUBROVNIK

It is time to say farewell to all your new friends after having breakfast. (B)

Once we Disembark we will bus to the airport and fly to back to LAX

Cruise includes:

o 8 days - 7 nights charter with crew
o Accommodation for maximum number of passengers in two bedded cabins with private facilities
o Air-conditioned cabins
o Fully equipped cabins (Safe deposit box, hair dryer, LCD TV, cupboard & wardrobe cabinet)
o Fuel for max 4 - 5 hours of sailing daily
o Seven buffet breakfasts
o Three course lunches daily
o Captain's dinner with live entertainment
o Additional dinner onboard
o Welcome cocktail
o Tea and coffee all day
o Unlimited water from the water dispenser
o Olive oil and wine tasting onboard
o Daily fresh fruit and snacks
o Daily cabin upkeep
o Midweek fresh bed linen and towels
o Beach towel per person weekly
o Free wireless internet access (Wi-Fi)
o Air-conditioned dining room with bar area and LCD TV
o Lounging sundeck with deck-beds for all passengers
o Rear access platform for easy access to/from the sea
o Use of hot tub
o Porterage


Rates do not include:
Port taxes and fees, € 40 per person/week, to be paid on board in cash
LAND TRIP INCLUDES:
CLICK HERE to see photos from our last Croatia Cruise

RECOMMENDED AIR: PLEASE WAIT FOR OUR GO AHEAD BEFORE BOOKING!

The individual air is pricing out less than what I am being quoted for group air so you're going to be better off booking your own air on this trip. If you book this flight we will have the transfers arranged for you to the hotel. You may consider arriving in Zagreb early or extending your trip in Dubrovnik.

Flight:British Airways 1644 Departure: Los Angeles 20JUL/630P Arrival:London Heathrow 21JUL/115P
Flight: Croatia Airlines OU0491 Departure:London Heathrow 21JUL/500P Arrival:Zagreb 21JUL/8:15P
Flight: British Airways 2679 Departure:Dubrovnik 31JUL/1135A Arrival:London Heathrow 31JUL/130P
Flight: British Airways 269 Departure:London Heathrow 31JUL/410P Arrival:Los Angeles 31JUL/710P
Base fare $551.00 plus taxes $574.15 = $1115.15 (*Total Fare Estimate per seat with taxes and fees at time of booking*)
Taxes and fees are subject to change until final payment is collected/Promotion ends today.

Call or email Ruth Perez at Cheapo Air to book. Just mention the Singles in Paradise Croatia tour: rperez@cheapoair.com (212) 763-0483



SINGLE SUPPLEMENT (Due to the limited number of cabins we can only offer 4 single supplements)
Your own room. Otherwise we match you up with a roommate (We have now sold out of our single supplements for this cruise. You may express an interest to be wait-listed): $895




Sign up for this Trip!

PAYMENT IS FULL IS NOW REQUIRED TO SIGN UP (We are waiving the credit card fee).
OUR HOTELS:
ZAGREB

Hilton Garden Inn - 4*

Website

- Tripadvisor Review - #15 of 65 hotels

Welcome to the new Hilton Garden Inn Zagreb - Radnicka, between the business district and city center. We're just a 20-minute drive from Zagreb Airport and within walking distance from main city attractions. Explore historic Zagreb's museums and art galleries, or enjoy a coffee at one of the many street cafes. Within walking distance from the hotel you'll find The Green Gold complex, featuring dining, fashion retail and local businesses. Our meeting facilities on the eighth floor feature over 8,000 sq. ft. of event space with beautiful panoramic city views.

Relax in a stylish guest room and watch the 49-inch TV while enjoying a drink from the in-room tea and coffee making station. Work at the desk with an ergonomic chair and complimentary WiFi access, and refresh in the bathroom with a shower and deluxe toiletries.

Enjoy a delicious cooked-to-order breakfast and dining in the restaurant or dine in with room service. Host meetings and events on the eighth floor with beautiful panoramic city views. Our restaurant offers local and international cuisine served in a cozy atmosphere. Relax with delicious cocktails, Croatian wines and local beers in The Lobby Bar. Work out in our fitness center, available 24-hours a day.

BIOGRAD

Hotel Ilirija 4*

Tripadvisor Review - #1 hotel in Biograd!

lirija Hotel is located on the sea front, close to the old city centre of the royal city of Biograd. It is surrounded with stunning nature, sea, and pine tree forest as well as numerous facilities which satisfied guests use to complete their holiday in this unique resort. The Blue Flag which adorns all the nearby beaches tells you everything about the sea and beach quality.

Ilirija hotels are superbly equipped for a family vacation or business events, and quality services: wellness centre, terrace, fully equipped conference halls, a hotel marina, adjoining sport centre, rich animation and entertainment program show you that Ilirija Hotel and Ilirija Resort can satisfy even the most demanding guest.
Hotel facilities: categorization 4****

158 rooms & 7 suites / 355 beds number of floors:

air conditioning: in all rooms

WiFi Internet access in rooms (extra charge)

hotel beach: pebble and concrete, deck chairs, showers, cocktail bar, recreational facilities sandy beach "Soline" 400m away from the hotel

free Wi-Fi access in the hotel's lobby

I hope you decide to join us for this amazing trip.